About
What is Mouse Clicker?
Mouse Clicker
is an easy-to-use tool that can click automatically on locations that you defined. It can
free your hands
and
save your time
. It's used to automate screen mouse clicks at specified intervals and any location on the screen.
Key features

Click wherever the mouse is

Click on a fixed point

Specifies the number of clicks

Support all latest Windows OS - Windows 11/10/8/7/Vista/XP/2000/NT/Server 2000/2003/2008
Screenshot: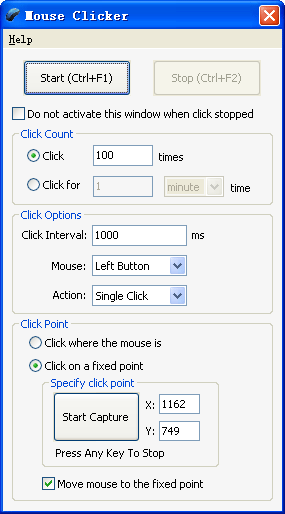 How to Buy
What will happen if I check the option "Do not activate this window when click stopped"?
Mouse Clicker will not be activated when click stopped if you check the option. This is very useful when you play a game and want to always stay in the game. You can press hotkey
Ctrl + F1
and
Ctrl + F2
to start and stop Mouse Clicker at any time, and always stay in the game.
Is your online order form secure?
Yes, it is 100% secure. And we give you
30-Day Money-Back Guarantee
Do I have to pay for the upgrades?
No! All upgrades are free to registered Mouse Clicker users.
Is tech support free?
Yes! It's free for all.
How much is it?
Mouse Clicker costs only $4.95. This is the lowest price we can provide. Lower than this price, we will get a "Negative Profit".
How to register Mouse Clicker?
Please see:
How to register Mouse Clicker
If you have any questions please feel free to contact us at
Email:
support@robot-soft.com
We hope that our products can help you, and good luck to you!
More Products:
Mouse and Keyboard Recorder

Automatic Mouse and Keyboard

Mouse Recorder